2 min read
Product Update Q1 2023: New Features of the Performance Monitor
Martijn Lustig published on January 24, 2023
At A-INSIGHTS, we are always working on the improvements of our products. The last quarter we have been working on optimizing The Performance Monitor, to make it an even better tool to work with. Below you can find all the new features we've added to the dashboard, and how to use them.
1. Data Export Feature
We have listened to you and implemented a frequently asked feature: the possibility to export data in an aggregated way. In most of the talks with our clients, they expressed a desire to be able to take data out of our systems for use in their own systems. Most important benefits for you:
Efficient preparation of business reviews – define which years, companies and metrics to export
Save templates and decide if you want to share these templates with your colleagues as well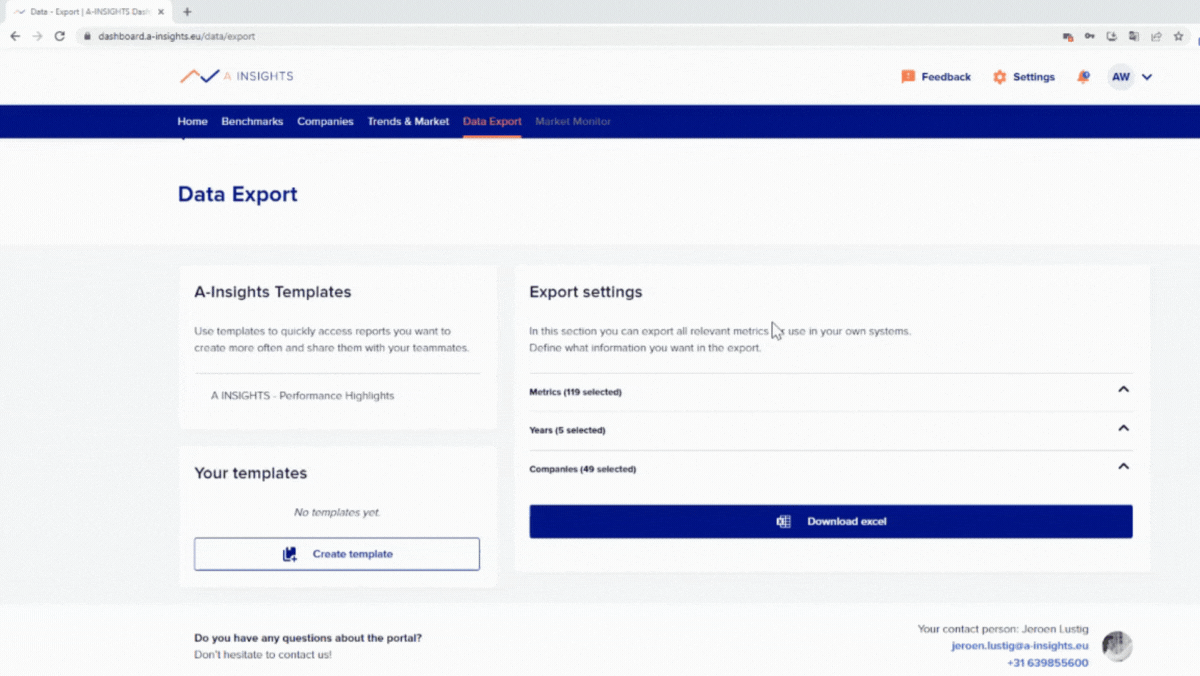 2. Aggregated insights on news
To have a better understanding of the relevant news written, we've created visualizations that give insight into:
Strategic topics most frequently written about - e.g. sales, profit & costs and investments

Companies in the news – overview what companies are most present in the relevant news articles

3. Possibility to install the portal as application
The portal has been upgraded from a website to a progressive web app. In a nutshell, it means you can install this site as an app on all your devices - on either your computer, tablet or mobile phone - plus it will work much better when your mobile data connection is poor or not available.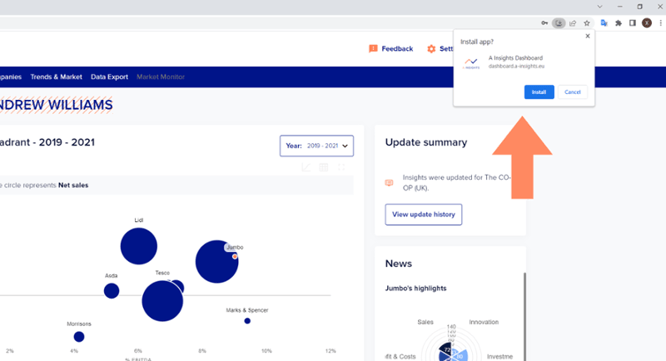 And many more...
Improved mobile experience – better scaling, easier controls, improved storyline

Ability to browse through company insights – toggle to other years of insights (if available)

Improved multiple business unit functionality – Since November on it is possible to decide if a user can access all business units, two or only one instead of all or one

Ability to hide yourself in benchmark highlights page – go to the three dots in the peer group perspective overview and unselect "compare with self"

Multiyear EBIT and EBITDA improvement potential and performance indicator – when toggling between years, the indicator and improvement potential are changes in line with your setting

Added formula tooltips – explain most relevant metric calculations
Go directly to your dashboard via the button below and start using these new features now!
Upcoming developments
For the next coming months we want to work on the following.
Introduction of an API feature - fueling your internal system with high quality data (e.g. financials, news, insights and documents)
Improved "Trends & Markets" section - more news & improved visualizations
Renewed "Benchmark" section - aggregated insights in winning business models and industry performance
Explanatory notes on deviating fiscal periods and length of book years
Your opinion matters to us! If you have any great ideas for next developments, you are always welcome to share them with us.